Do South East Asia properly this summer
Follow these top tips to have the summer of your dreams
With the weather already turning parts of campus into sunbathing hotspots, the lure of sandy beaches and tropical jungles in South East Asia is impossible to resist.
But if you want to make the most of a summer in every gap year traveller's favourite part of the world then you've got to make sure you get everything right.
Fortunately, our team of writers have been there and done that so when you head off for the best summer of your life make sure you remember these vital top tips.
Beware the Thai buckets
You may think a bucket is best used to build sandcastles at the beach or as something to put your mop water in, but in Thailand a large bucket is actually a drinking utensil.
With a wide variety of drinks on offer for your bucket, the most famous and widely drunk are Samsung buckets. Samsung is a very strong Thai whiskey, usually mixed with ice, Red bull and a can of coke and it's the fastest way to get from sober to legless.
Top tip: Ease yourself in gently. If you're keen to drink a bucket then start by sharing one to keep yourself in check. Wait a while for it to hit you before you start on the next one, or you might be waking up with a particularly rough case of memory loss.
Don't miss the Full Moon parties
If you're planning a trip to South East Asia you're probably aiming to tie up your dates so you arrive on Koh Phagnan for one of the world famous Full Moon parties. Over 20,000 people party on Haad Rin beach until the sun comes up, and it's an absolute must for you to experience at least once in your life.
Top tip: Koh Phagnan is a small Thai island and has limited accommodation, so don't expect to be able to just rock up and find somewhere to stay two days before the party. Unlike most places in South East Asia it's wise to book a room a few weeks before you expect to arrive or you could be partying with your backpack and sleeping in the sand.
Also, around the Full Moon the small neighbouring island of Koh Tao gets very busy so if you plan to visit both of these islands it's also worth pre-booking your accommodation for Koh Tao.
Keep your valuables safe and prevent anyone nicking them out of your bag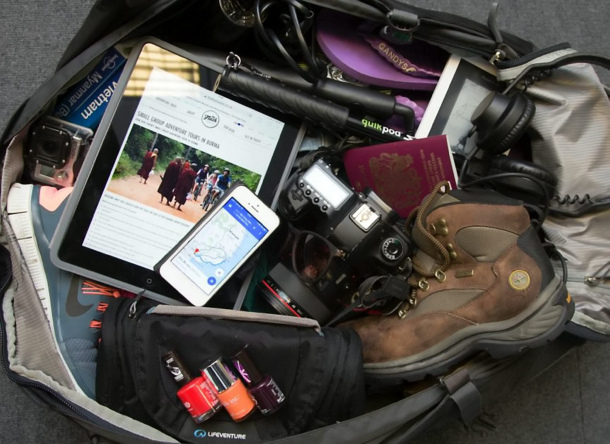 The average gap year traveller takes £1,500 of equipment with them on holiday, so it's no surprise you'll be seen as an easy target by local thieves. Nothing's worse than that moment when you realise someone has got into your bag and stolen all your valuables, your passport, your travel documents and visas.
Top tip: There are several anti-theft bags on the market but none are better suited for backpackers than the range offered by Numinous Packs. Numinous incorporate four anti-theft features into their packs including anti-slash technology to stop opportunists slashing into your packs to remove your belongings and anti-puncture zips which stop thieves breaking into your packs through the zips.
Their bags also feature TSA zipper locks which mean you need no additional padlocks as everything is built into the bag, and the Numinous Shield combination lock, a retractable wire system which enables you to lock your pack to a fixed object such as a bunk bed or radiator.
Take a diving course when you visit Koh Tao
Koh Tao is a diver's paradise, and if you book a diving course you'll get free accommodation. It's really worth giving it a go, and the rest of the island is beautiful too with stunning beaches, chilled nightlife and beautiful beach-side bungalows.
Top tip: Koh Tao is so wonderful it's impossible to leave, so be prepared to stay here a while. Just make sure you do eventually tear yourself away and continue your travels.
Be strong with street vendors
The shouts of "Alright Governor" and "Oi Del Boy" are very common throughout the cities of South East Asia, and the amount of people trying to sell you a new suit or tickets to a lady boy or ping show never seem to end. Try not to engage with them too much or you'll be stuck having the same conversation over and over again.
Top tip: Politely say no thank you and keep moving at all times. Never stop, you'll be there for hours and end up walking away with a suit you never asked for.
Be prepared for wild Tuk Tuk rides
Tuk Tuks are the easiest way of getting from A to B and the sheer rush of zooming through traffic and surviving several near-crashes makes you realise you're a long way from home. Don't worry about how frenetic the experience can be, the drivers always seem to know what they're doing.
Top tip: Avoid rush hour in a Tuk Tuk as you'll end up getting a face full of fumes and feel like you've just shaved 20 years off your life. The most important advice we can give you though is to never tell your driver you're in a rush, unless you're a real adrenalin junkie. You'll be going around corners on two wheels if you do.
Bartering is essential
Bartering is a way of life in South East Asia, and you can barter for anything from street food to rooms in a hostel.
Top tip: To get a good deal always looked shocked when they tell you the price. Give them a counter offer at half the price and work your way from there. If they don't meet you at an acceptable price, be bold and walk away. You'll often find they chase you down the street saying they accept your offer.
Watch out for the 'Chang-over'
The local beer to drink in Thailand and SE Asia is Chang, and the morning after a night out you'll often hear the phrase "I've got a bad Chang-over".
Top tip: If you're going for a night out, try to avoid drinking only Chang and mix it up a bit with some of the other local beers or buckets.
Arriving in Bangkok
Arriving in one of the craziest cities on the planet can be daunting at first, with the pure heat and humidity hitting you as soon as you leave the air conditioning of the airport. You'll be bombarded by taxi drivers offering you a lift, but you'll get a better deal by booking a taxi from one of the counters inside the airport.
Top tip: Get your taxi to take you to Khao San road. Here you'll find plenty of cheap accommodation, so just rock up and ask for a room. Lots of backpackers head here so you'll be able to start mingling and find out about other travellers' experiences, the best things to do and the best places to stay.
Just do it
Lots of people dream about travelling the world, but very few actually get on the plane. In the age of cheap airfares and with capitalism yet to commercialise this corner of the world, there'll never be a better opportunity to explore SE Asia.
Top tip: Why are you still here? Order your Numinous Backpack, book your flights and go.
Numinous Packs offers safe, secure, anti-theft luggage that's been designed with student travellers in mind and is the best way of ensuring your perfect summer goes without a hitch. To learn more about their range of products, and to receive a 10% student discount, click here.