How to get your five a day in New Zealand
The crazy thing about a holiday in New Zealand is just how much you can fit into a single day. With everything so close together, you don't have to travel far to experience a lot, and now travelling to the other side of the world couldn't be cheaper, with flights starting from just £549.
Not convinced? Here's an example of how much you can fit into one day in and around Queenstown – a perfect set of activities for adrenaline junkies.
New Zealand is spectacular to look at, but it's even more remarkable when that scenery is rushing towards you as you fall from the sky with only a bungee cord to save you. Opting for a light breakfast is essential.
If the bungee jump doesn't get the adrenaline pumping, a skydive over The Remarkables mountain range will do exactly that. Take in the stunning views of Queenstown from a true bird's eye view.
If you've never seen a jetboat up close before, don't worry they look exactly as awesome as this picture would have you believe. The Shotover River (as its name suggests) is fast-flowing to a fault, so hold onto the sides and be prepared to tackle the rapids.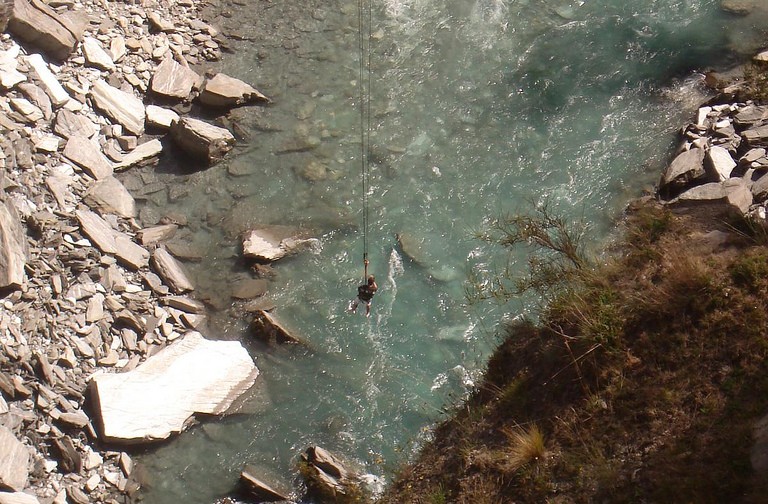 Enjoy one last high-adrenaline thrill with the world's highest cliff jump. Anyone who tells you they did this and didn't scream is a liar.
After all that heart-stopping action, it's important to refuel and you won't find a better Queenstown burger than the ones at Fergburger.
STA Travel are currently offering a range of travel deals to New Zealand with working holiday visas available from £138, enabling you to get some valuable work experience for your CV while being based in an amazing location. A working holiday visa is also a must-have if you plan to supplement any money you take with you by doing the occasional bit of work as you travel around the country.
As if that offer wasn't enough, STA Travel also offer 5×1 holiday experiences that allow you to fit five amazing activities into one day of your trip, ensuring you get the most out of your time with the Kiwis.
STA Travel are also offering flights from £549 one-way, 15% off work and travel packages and up to 54% off campervan hire when you're out there.
These offers end on the 30th April so if the idea of spending your summer visiting Hobbit holes, skydiving over Queenstown or even going whale watching sounds like your perfect holiday then you'll need to be quick. Click here for more information.
Follow STA Travel on Facebook and Twitter.