I went on Hollyoaks and became a child superstar
It was the best day of my life
noad
Infinitely better than playing a leading role on TV is having a minor part. 
On screen for a second to mumble a few words, just being able to say "I've been on the telly" is where the real glory lies. True celebrity isn't on the big screen but on the edge of it.
Third year Daisy Bernard once stole the show in a 2008 episode of Hollyoaks — and has been dining out on the story ever since.
The Manchester English finalist said: "It was the best day of my life.
"I watched Hollyoaks all the time and my parents won a competition for a walk-on part. I was 16 then and took a day off school to be on the show.
"I wasn't meant to get any lines but the producers gave me a small line to say on the day."
Daisy, 21, appeared on camera when character Frankie and her family frantically searched for their troubled son Jake, who had vanished with his baby son Charlie.
Watch blonde Daisy appear on the right of the screen.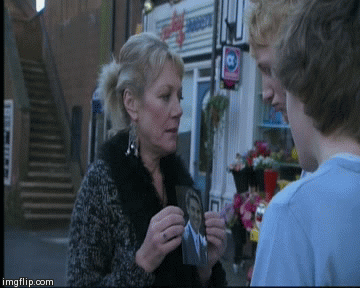 She said: "They came up to me and said, 'Have you seen this man?' and it was my job to say 'no, sorry'. It was a brilliant moment. I walked as slowly as possible so I could stay on camera for as long as possible.
"We had to do it again and again. It took an hour and a half to film a minute-long scene.
"It was great meeting all the actors, they asked to come for a drink with me after but my mum told them I was only 16.
"Rhys was really friendly. He was a bit of a hunk, the one that got away. Nancy was also really nice, she was tiny.
"The producers also showed us around the set and let us pour a pint of fake beer in The Dog. I remember all the walls were plastic and hollow."
Daisy added: "I didn't tell any of my friends about it and they all phoned me up when it finally aired, saying 'Oh my God was that you on Hollyoaks?' It was quite embarrassing.
"Basically it's the best interesting thing that has happened to me and I mention it whenever I have to answer those introductory questions they ask you at the start of seminars."
Leeds second year Art Sejdiu also entered the halls of TV fame, starring on a Channel 4 show called I'm Spazticus.
The programme starred disabled people pulling pranks on unsuspecting pedestrians.
Unwitting Art, a 21-year-old reading Politics, featured in a sketch called "Dwarf Punch Sandwich" thinking he had actually won a place on a quiz show.
This is his story.
Have you ever been on TV? Tell us what happened: send an email to [email protected]