Go travelling to find yourself, but we already know you inside out
noad
Anyone who got to uni and started comparing gap year stories with their flatmates knows there's more than one way to see the world, and now we've got the facts to prove it.
After extensive research, we've learned that there are in fact five ways to see the world. No more, no less. Even if you think you've come up with the most unique summer holiday experience ever, we can guarantee it will fall into one of these five tribes.
The only question is: which one are you? Do you go travelling to live like one of the locals, or do you pack every home comfort you can think of when you go? Have you already sent round the group Whatsapp to find out which mates can come with you, or are your holidays a more solitary experience?
Whatever it is, this quiz will find out which of the five travel tribes you belong to, giving you some great ideas for what to do this summer (assuming you haven't planned anything already of course: that would be way too organised for a student).
Completing the quiz also enters you into a competition to win a round the world trip with STA Travel (final date for entries is March 5th). Because no matter which tribe you're in, a free holiday is the best kind of holiday.
Which travel tribe are you?
Life & Soul
Why would anyone ever want to travel alone? Summer may be ages away yet but you've already started tapping up your mates and reminding them to save some of that loan money so they can join you on your travels.
You'd think that having all your BFFs on holiday with you would be enough, but we know you're still going to spend the summer chatting to everyone you meet while you're abroad. If you haven't doubled your number of Facebook friends by autumn, you've failed.
Ideal holiday spot: Coast to coast trip in the USA. You and your mates discover the real America, as your journey takes you from hiking in Yosemite to stargazing in Los Angeles.
Or… Uncover the mysteries of Indochina. Float down the mighty Mekong river, experience the magnificent Angkor Wat and come home with more trinkets and souvenirs than you'll know what to do with.
Thrill Seeker
The quiet life isn't for you. Instead, you want to spend your summer cramming in as many adrenaline highs as you can. If there's a road less-travelled, a mountain unclimbed, or a cave unexplored, you'll be there.
As well as returning home with enough GoPro footage to make a film longer than the Lord of the Rings trilogy, you'll have so many cool stories that next summer everyone else will be following in your footsteps to see what all the fuss is about.
Ideal holiday spot: Silk Road, Asia. Wander along the Great Wall, stare down the Terracotta Warriors and spend the night in a yurt, and that's just scratching the surface.
Or… Rappel down waterfalls in Costa Rica. Often overlooked by backpackers, Costa Rica has so much to offer the budding thrill-seeker. Spend your nights sleeping in a cave behind twin waterfalls, while you spend your days white water rafting on the Savegre River.
A Lister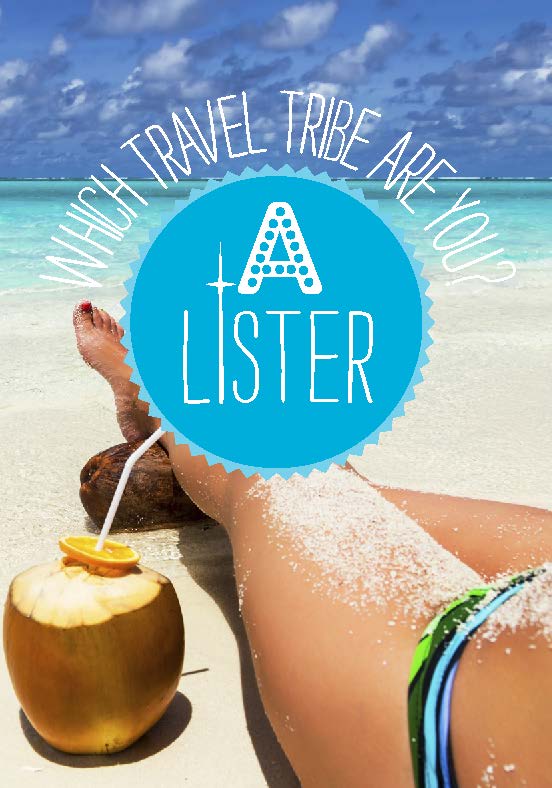 Yes, you want to see the world but you don't understand why you can't do so from a position of luxury. Forget shared dorms, obscure hostels and questionable street food, you're living in a private beach hut enjoying free Wi-Fi and fancy cocktails and uploading enough pics to Instagram to make your mates properly jealous.
Some people might try and tell you that it's silly spending more when you travel to keep your home comforts, but it's hard to hear their complaints over the sound of your swish yacht.
Ideal holiday spot: Kenyan safari. Spend your days seeing the big five and exploring the Masai Mara, before relaxing in an exclusive lodge in the evening.
Or…Sail the Galapagos. When Darwin came here all those years ago, he could only dream of having some of the luxuries you'll get to enjoy as you explore the national parks and discover all kinds of animals, from marine iguanas to giant tortoises.
Free Wheeler
It's not that you don't like your friends, it's just that you don't want them to hold you back. Your holiday is about you and you only, and all you need is a decent pair of shoes, a change of clothes in your bag, and maybe a toothbrush, and you're ready to go wherever the day takes you.
This is a holiday all about being flexible and spontaneous and travelling solo means you're free to make things up as you go along. Besides, who needs friends when you'll meet plenty of amazing people on your travels?
Ideal holiday spot: Campervan trip around Australia/New Zealand. With a camperflex pass, you can drive from town to town and wake up to a different view every day. Wherever you decide to go is up to you.
Or…Island hop around Thailand. There are so many picturesque places to visit that are tucked away off the Thai coast, so take the chance to explore them at your own leisure. Plus if you ever get bored of the view, you can always go snorkelling and explore the world beneath the sea.
Live Like a Local
Fed up of reports of Brits going abroad and acting terribly by not understanding other cultures, you're on a one-person mission to show them how it's done.
You'll live with locals, eat what they eat, drink what they drink, and do what they do, to the point where the only thing that betrays you as a holidayer is your English accent. Unlike those drunken yobs clogging the streets of Magaluf every summer, you'll actually have made a positive impact on the country that's hosted you.
Ideal holiday spot: Ecuador. Live with a Quichua family in the heart of the rainforest and learn their traditions, visit an animal rescue centre and experience a shaman ceremony.
Or…Volunteer in Africa. Assist with lion, elephant and cheetah research and monitoring while living with the Maasai community. Their experienced guides will show you everything you need to know to live in the African bush.