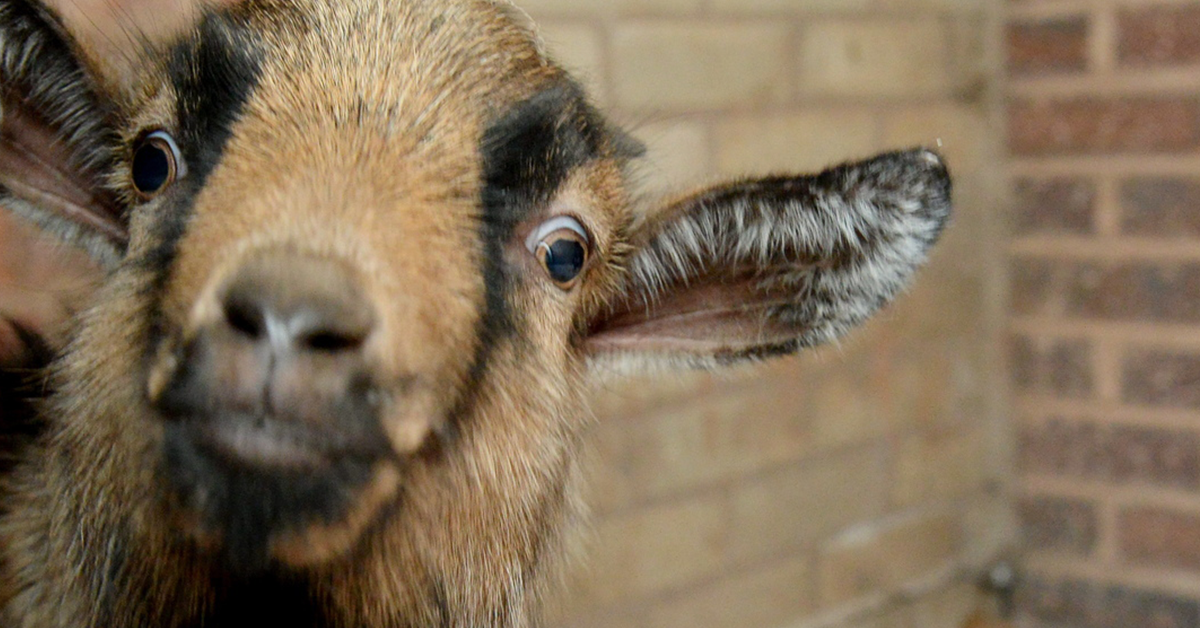 A stray pygmy goat wandered into our halls on Valentine's Day
campus
egg fried rice
goat
keele university
pygmy goat
valentine's day
Three student nurses spent Valentine's Day nursing a goat after it wandered into their halls.
Jennifer Scragg, 19, Kathryn Ravenhill and Rosie Abercrombie, both 20, became surrogate parents to the animal after it was found at Keele University on Saturday.
The friends spent two hours trying to coax the pygmy goat into a shed near their rooms.
Jennifer said: "We were walking to the shops to get the bus at about 1pm and we noticed a goat on campus and thought it was a bit weird.
"When we got back at 4pm it was still there. The RSPCA and campus security guard were trying to catch it but they gave up after about 20 minutes.
"Then about eight students tried to get it into a bin shed but it kept running out through their legs.
"The RSPCA officer said he wouldn't come back unless we got him into an enclosed area, so when other people left that's when the three of us stood at the flat door and tried to coax her with carrots to come inside.
"We thought it would be awesome to have a goat in the halls but then we were stuck as we hadn't planned past getting it inside.
"Fortunately it's reading week so there were not many people in the block."
The girls fed the goat carrots and egg fried rice during the night in the bin shed.
Kathryn, 20, said: "I had been watching people trying to go and catch it all morning.
"Once it was just the three of us it calmed down and was really placid.
"We visited it throughout the night. We sat down and chatted to it with cups of tea. It was an unusual way to spend a Valentine's night.
"I was surprised when the RSPCA left it there. It's not exactly safe to have a wild goat on campus.
"There is a road nearby so if it had wandered down there it would have been dangerous."
The girls said RSPCA staff returned to the campus on Sunday to collect Alfie.
An RSPCA spokesperson said: "We were contacted by a member of the public on Saturday afternoon about a goat that was running around the campus at Keele University.
"The pygmy goat was scared and very cautious of humans and because of this, unfortunately managed to evade our officer during the first rescue attempts on Saturday.
"We do not know how the goat came to be in the university grounds but we would like to thank the members of the public who helped to round her up on Sunday morning and keep her safe and secure until an officer returned to the site.
"The pygmy goat is now settled and in the care of the RSPCA.
"We are now appealing for the owner of the goat to come forward and would urge anyone with information to contact us on 0300 123 4999."
Do you want to get involved with The Tab Keele? Email [email protected]