Labour killjoys want to stop you drinking delicious white ciders
The Labour Party has released plans which would see pre-drink favourites outlawed. 
Square Andy Burnham, the Shadow Health Secretary revealed he wants to ban "high-strength, ultra-low-priced white ciders".
Products affected are likely to include Frosty Jack's, White Lightning and urban freewheeling favourite Scimitar.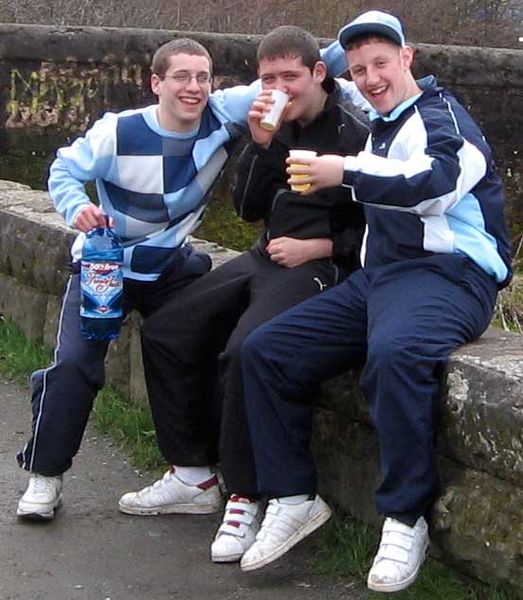 Andy, 45, said: "These cider products are particularly used by children because of their low price and high strength.
'We've worked it out at 20p a unit.
"We're talking about which can be up to 7.5 per cent in strength but are retailing at £1.99 or less – and this is a two or three litre bottle.
"Young people can cobble together the money to get hold of them."
Now Labour wants to propose a new cheap cider tax and increasing the minimum amount of apple juice required to be in cider.
Beleaguered cider makers are also less than impressed.
A spokesman for Aston Manor, the makers of world famous Frosty Jack's, said: "[We are] a responsible business, ready and willing to work with any party to address misuse and the misery created for the individuals themselves and those around them.
"Our view is that there are no problem drinks, rather problem drinkers.
"For a variety of often complex reasons a small minority of people misuse a range of substances – alcohol, prescription drugs, and illegal drugs for the most part."
But not everyone agrees.
Charity group Alcohol Concern said: "High strength white ciders sold cheaply are fuelling heavy and harmful drinking amongst some of the most vulnerable groups in society.
"These proposals would go some way in addressing this issue, but they would be more effective alongside a policy of minimum unit pricing."
Concerned Frosty Jack's enthusiast Alex Mussell, 21, is distraught about the proposed changes.
The Nottingham Computer Scientist said: "This is just another example of health and safety culture taken to the nth degree.
"Who cares if I only spend three quid getting a little merry? Some of my best times have been with nothing but a bottle of Frosty's, a group of friends and a field in Northampton.
"Bloody jobsworths."