Hateful homophobic 'Monk' arrested as he says Christmas is polluted by 'false gods and fetishes'
Brother Damon isn't very nice
The homophobic hate monk who toured Britain's unis saying gays were like vampires has been arrested.
Brother Damon John Kelly was arrested for causing a disturbance in a residential area on December 8th after he leafleted several student areas. He has been banned from the city of Cambridge and released on bail till January.
In a letter to Pink News, Kelly revealed he had embarked on a campaign to oppose homosexuality in 2014, ending in a "Christmas special" leaflet.
The festive fliers were posted around Cambridge.
Brother Kelly claimed: "Christmas is the invasion by God into the world He created out of pure love; which through man's evil has become a polluted landscape of de-humanized people, debasing themselves with their false gods and fetishes.
"This corruption of youth cries to heaven for vengeance.
"While the pale, pathetic world of lesbianism de-feminises women and makes demonic mockery of true womanhood, embodied in the Blessed Virgin Mary."
Aptly named Damon has spread his hateful beliefs in several university towns including Brighton, Leicester, Lincoln and Loughborough.
He also sent our Cambridge team a heartfelt letter, complete with inked signature.
In it he slammed students for upholding "Establishment dogma" and said he was "no saint".
He said: "I exhort you to embrace the truth, which is to be found only in Jesus Christ.
"As far the rainbow flags, LGBT, Islam, Hinduism, Zionism, British and American Militarism, "British Vaues" and all such other human folly, I regard merely as the devil's flatulence; though leaving a powerful stench behind."
In Loughborough the man, wearing full robes, canvassed the entire student triangle with the pamphlet titled "The Works of Darkness", which listed ten sins.
In a handwritten letter to Pink News – who he called the "enemy" and "disciples of the devil" – Brother Kelly identified himself and revealed he had been "arrested no less than 9 times".
Last week, as he began his fifth term of bail, Kelly thanked several members of the LGBT community, including Charlie Bell, editor of The Tab Cambridge.
He wrote: "I wouldn't be a good monk if I didn't exhort you to repentence and conversion to Christ. I have no hatred for "Gays" as individuals, but as a political movement you are Antichrist and the Devil's diciples, and the Lord has told me to oppose you.
"So until sometime in the New Year, I bid you farewell.
"Br Damon Jonah Kelly
"P.S The Peace of Christ be with you at Christmas."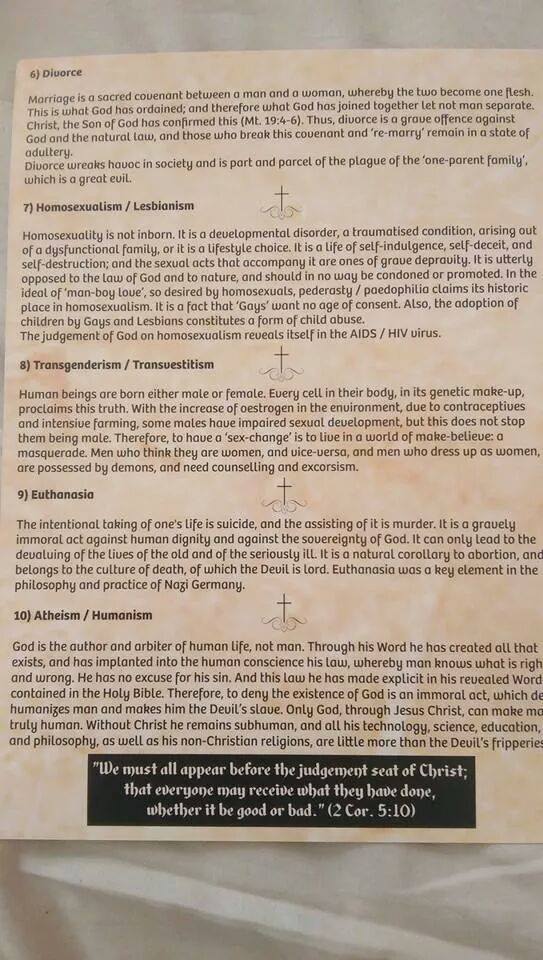 Kelly's bizarre dress sense – a black robe, beige satchel, socks and sandals – earned him the nickname The Monk.
He claimed that AIDS was a form of punishment sent by God, linked homosexuality with paedophilia and encouraged the exorcism of transgender people.
PhD student Tammy and her partner Cherie refused to take his handout in Leicester.
They told The Tab that they had been personally targeted by The Monk when they told him they did not want his disgusting bulletin in their house.
Tammy said: "I think this could have such damaging effects on students at the university currently questioning or trying to come out."
The arrest also revealed Kelly is the director of a Scottish Catholic charity called "the Black Hermits".
The charity claims "advancement of religion and promotion of Christianity and to promote Roman Catholic religion" as its primary aims.