A homophobic 'monk' is preaching hate at unis across the country
He says transsexuals are demons
A sinister "monk" is waging a war on homosexuality by posting hateful leaflets through students' doors. 
Since the start of term, the man – who is bald and wears a black robe and socks and sandals – has traveled around the country distributing revolting messages about sex, pornography and homosexuality.
Several people who confronted him confirmed this was the man.
The flyers claim to spread the word of God and reference the bible. They come under the title "Works of Darkness and Homosexualism: A few points".
They come in a Buzzfeed-style list format and are ornately decorated with crosses.
The papers condemned fornifaction, the use of contraception, assisted fertilisation, abortion, pornography, divorce, homosexuality and lesbianism, transgenderism, IVF and atheism.
The monk, 53, refers to transsexuals as "demons who need counselling and exorcism".
It says: "Human sexuality has become corrupted and distorted… Man is not as he should be.
"A penis is made for a vagina, and not for an anus or a mouth. An anus is for defecation, and a mouth for eating, speaking and breathing.
"In short, the practice of homosexuality is both blasphemy against God and rebellion against nature."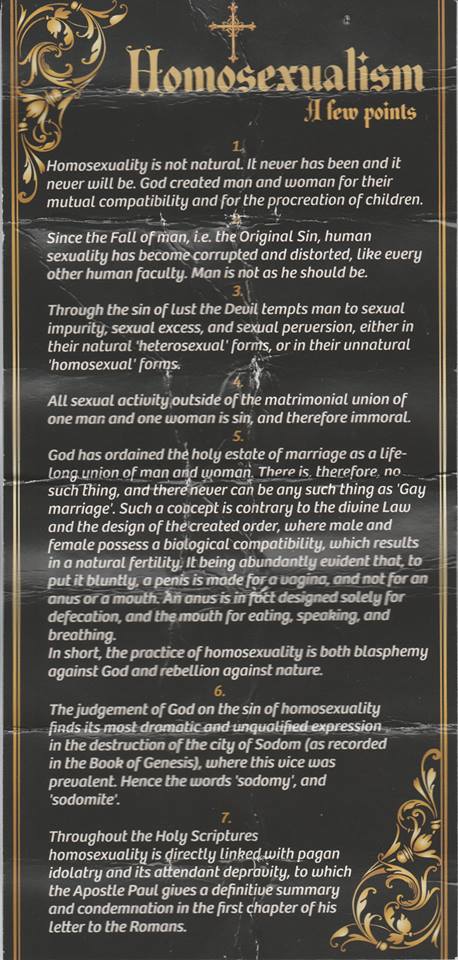 He has appeared in areas days before Gay Pride events to spread his propaganda.
In August the priest-like man flyered in Brighton, before moving onto Stoke-on-Trent in September. 
Student houses were targeted with the sick messages in Lincoln, Cambridge, Loughborough throughout October and November.
The hateful flyers were posted in the Mill Road area of Cambridge, formerly represented by Sarah Brown who is the only openly trans politician in the UK.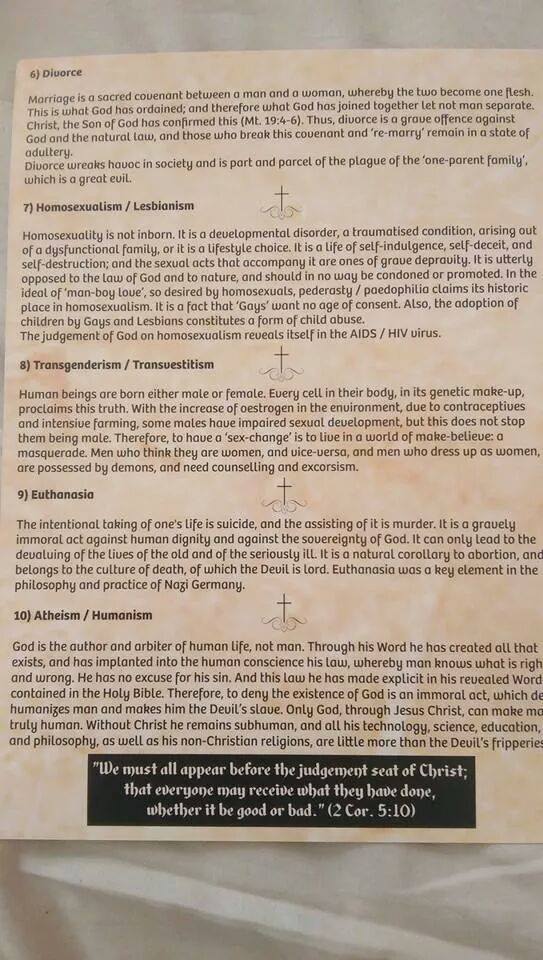 In Loughborough the man, wearing full robes, canvassed the entire student triangle with the pamphlet titled "The Works of Darkness", which listed ten sins.
Charlie Forbes, a Geography student at Loughborough, confronted the monk, who scurried off.
He said: "I saw this priest-like man in robes tucking this leaflet through our door.
"He wouldn't look me in the eyes when I called out."
Just yesterday he posted into student homes in Leicester.
And his bizzarre dress sense has earned him the nickname The Monk.
PhD student Tammy and her partner Cherie refused to take his handout.
They told The Tab that they had been personally targeted by The Monk when they told him they did not want his disgusting bulletin in their house.
Tammy said: "I think this could have such damaging effects on students at the university currently questioning or trying to come out."
Pink News reported in September the man would not be prosecuted for spreading his work in Stoke-on-Trent.
Have you seen this man? Let us know. Email [email protected]