Charity fundraising for student tragically killed in MH17 crash now at 700% of target
Richard Mayne's JustGiving page from his sponsored climb to Everest base-camp in aid of UK based Nepalese charity Kidasha has reached 700% of its £680 target.
Donations to the charity page set up by a student killed in the MH17 disaster have risen sharply in the wake of the tragedy. 
The tragic news of Leeds student Richard Mayne's death in the Malaysian Airlines crash has brought many tributes on social media to the "inspirational and loved" 20-year old.
Richard's JustGiving page, raising in aid of the UK charity Kidasha, have seen an outpouring of tributes and kind words.
Kidasha supports vulnerable and disadvantaged Nepalese children. Prior to his death Richard had raised in excess of £1,000 for the Kidasha, but now his page has reached 720% of its target.
The amount raised now stands at £4,896.67 after receiving 300 donations.
Richard was tragically killed in the Malaysaian Airlines crash on the Ukrainian border. He was lauded by friends as a "inspirational and loved" student and a  "very inspirational gentleman".
One tribute from Birmingham student Harry Yorke read: "Richard Mayne was a great lad and a top friend, and I feel privileged to have known him. I still can't believe the way in which you've left us, but I'm glad you got to spend one of your last nights with the boys that loved you as a team mate, a brother and a friend.
"I'm sure I speak for all of the boys when I say it was a pleasure to have known you, and you will be dearly missed by all. Whenever I put on the blue and yellow again, I will be thinking of you and the times we all have had together.
"Thank you for everything Rich, my deepest sympathies go out to your friends, family and all those suffering from flight MH17."
Friends posted several messages were posted to the page. One anonymous donor said: "I am pleased to be able to make a small gesture in respect of your life. I am in awe of the number of lives you touched. Such a tragedy."
Another, called Jake, said: "Miss you so bad man. Everyone's got each others backs though mate. You're probably calling us soppy twats from up there. We'll see each other again one day."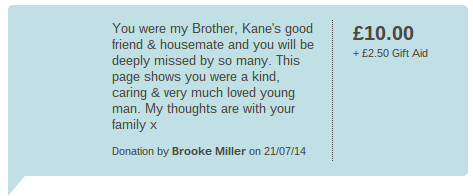 To donate to Richard's page, click here.