Calling time on rubbish housing: Find a proper Crib
ADVERTISEMENT FEATURE: Struggling to find the right home for you? Student Cribs are here to solve your problems.
If you're anything like this Tab writer, your parents will delight in reminding you that, back in their day, a student house was supposed to be old, damp and mouldy.
Single pane windows, lumpy mattresses, heating that didn't work – putting up with these things was all part of the fun, they'll say.
Unfortunately, most landlords today are as old as your parents, which means they still think crappy homes are ok for students.
Good news, then, that Student Cribs are on the scene to sort you out with a prime place as you leave the sanctity of halls.
The Student Cribs principle is simple. Being a student doesn't mean you want to live in rubbish accommodation. If you did, you'd probably just run away and join the Army or something.
Instead, you want to live in a nice house with a big group of friends. A few mod-cons and some decent heating wouldn't go amiss either.
Student Simon Hunter started renting a Student Cribs house in October 2013. Now nearly four months into his contract, Simon's pleased as punch with his gaff.
He told The Tab: "Despite the mad rush of preparing for my final year, I found the process of settling-in nothing less than efficient and comfortable, made easy by the friendly Student Cribs agents.
"I feel really fortunate to be able to make the most of my crib, which offers plenty of space and tech in a 'family home' style.
"The coolest thing about the property is the multi-functional living room, which lets us browse Netflix on our widescreen Apple TV, host friends in an area with three sizeable sofas and a stereo system, and also work quietly at the coffee table.
"I'd definitely recommend Student Cribs to a friend for the sake of enhancing their living experience while at University."
So the Cribs team makes sure each of their houses is comfortable and well-equipped, located slap bang in the middle of the best places in town.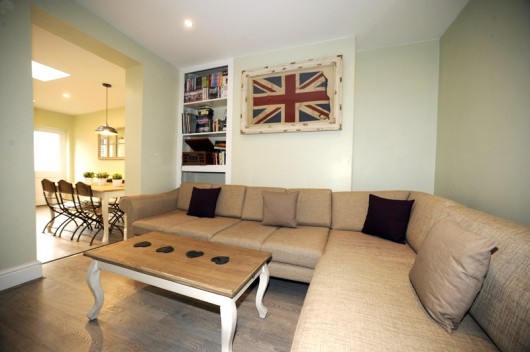 If you've never done it before, trust The Tab when we tell you setting up the internet in a student house is an absolute nightmare.
Thankfully, with the Student Cribs, you don't have to worry about it. The housing gurus have got it covered, as rent comes with broadband chucked in for free.
Booking a Crib is ludicrously easy. Arrange a viewing online and, if you like what you see (which you will), lay down a £200 deposit to book your place.
Once you've signed the paperwork, you'll get your £200 back. You can spend it in the pub to celebrate if you like.
If you're fed up with trekking round knackered old houses which (most probably) stink of fags, get onto the Student Cribs website. Each property's listed with a gallery of photos so you can have a scout around before you decide to view the place.
Click here to visit the Student Cribs website and find your dream house for the new term.