A graduate's guide to moving to London
Graduated and moving to the capital? The Tab's teamed up with Find Properly to bring you the tips you need to survive.
find properly
graduate
jobs
London
Student
Work
You've graduated and landed a job in the Big Smoke (don't move there without a job). There's just one problem. You need somewhere to live and there's only so long your aunty's going to let you sleep on her sofa.
Looking for a flat can be a nightmare. You'll spend months trawling estate agents' websites only to find every flat you look at snapped up before you set foot through the door.
But help is at hand. Find Properly is the site that does the work for you. Tell it what you need from a flat and the site will find it. Team it up with The Tab's guide to moving to London and you'll be chewing the fat down the rub-a-dub in no time.
Area
When you start looking for a flat, it feels like you might as well stick a pin in a map. There are hundreds of areas and you've heard they're all 'up-and-coming'.
The truth is you want to live somewhere close(ish) to work. Don't waste an hour either side of your working day travelling to and from the office. Otherwise you might as well live in Guildford.
To help you, Find Properly uses some mad tech skillz to find you places with the quickest travel times from your work. You can add in your housemates' office locations (plus your gym, favourite bars and clubs if you've got an idea of them already) and it'll figure out the best area for you.
The site also lets you add places that you really want to live (near all your mates), and places you really want to avoid — those either too hipster or too stabby for you.
Your mum says: Make sure you're close to the train home
The Tab says: Don't move to Clapham. It's boring.
Property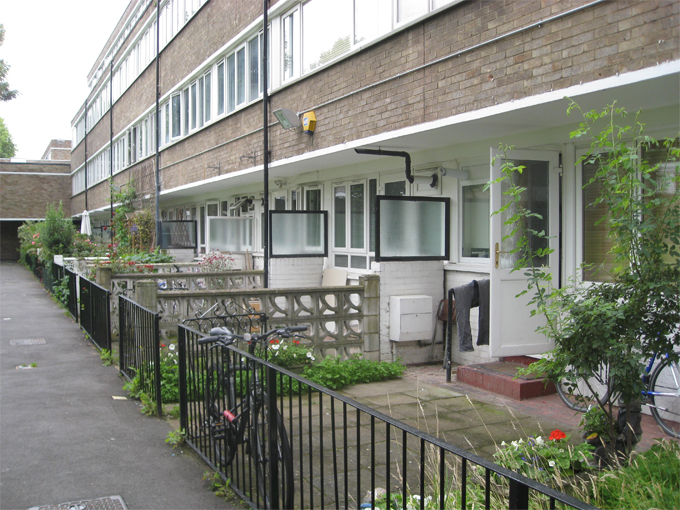 At uni, you probably lived with six other people in a big townhouse. You don't want to be looking for the same in London.
You might hit the jackpot and find a cute little mews house in a gated community off a leafy boulevard. More likely, you'll be in an old council flat on a delightful concrete-chique estate.
But don't knock the humble council flat. Some of them even have security gates and green spaces. A four-storey townhouse isn't in everyone's price-range.
Don't look for a place with more than three other people. Finding flats for anything bigger than that is a serious hassle. Obviously be prepared to compromise, but don't move to the Isle of Dogs just because your flatmate works in Canary Wharf. S/he can catch the DLR.
Find Properly makes things easy in this department. You and your mates can add properties to a shared list, and then rate and comment on each other's choices. Kind of like online dating but for houses.
Your mum says: Make sure the walls are well-insulated.
The Tab says: Find a place with one box room, then make your flatmates give you a discount in return for taking the single bed.
Transport
London's big. At some point, you're going to have to leave your homesickness behind, stop Skyping your parents and get out into the city. To do that, you'll need transport.
Your mum says: Get a travelcard, it'll save you money.
The Tab says: Get your parents to pay for your Oyster card.
The Tube:
At first, you'll think the Underground's the best thing the Victorians ever did for us (obviously their greatest legacy is football). The Tube's so convenient, quick and just like riding a rollercoaster to work every day…
Soon, though, you'll work out it's actually hot, expensive and busier than Boxing Day in Selfridges. It's best avoided.
If you're one of those unlucky souls forced onto the Tube each day, Find Properly will make sure your commute's a short one. Put in the max amount of time you're prepared to travel and the site will only look for places in that range.
Your mum says: Don't fall on the tracks.
The Tab says: Link your 16-25 Railcard to your Oyster to save 1/3 on single Tube journeys.
Buses:
If you start out as a fan of the Tube, chances are you wouldn't be seen dead on a bus. They're for students and plebs, and you're neither of those any more.
However, unlike trains, buses are cheap(ish), they're above ground so you see the sights, and loads of routes are 24-hours so they'll take you home after a night out.
Your mum says: Don't stand on the top deck.
The Tab says: Take Bus No.11 whenever possible, it goes past all the best tourist attractions.
Bicycles:
Cycling in London is not for the faint-hearted. You're not tootling down to the Library any more and people do actually get killed. Beware cars turning left and mopeds careering into the back of you on cycle lanes.
Boris Bikes are handy but can be tricky to find/unlock/park. A flat with a Boris Bike rack outside it means you'll never be stranded after a night out (don't drink and cycle, kids).
Your mum says: Wear a helmet.
The Tab says: Also wear a helmet.
Cars:
While there's traffic on every street, no one in London has a car. Don't bother. Petrol's expensive and you'll spend half an hour every day looking for a parking space.
Your mum says: Thanks, I can have my car back now.
The Tab says: If you're heading out of town with friends, hire a car. It can be cheaper than the train.
Walking:
The Londoner's preferred mode of transport. Free, good for you and less likely than a bike to get you killed. Also a great opportunity to get stuck into some serious podcast action.
Your mum says: Wear some comfy shoes
The Tab says: Beware of scumbags pinching your phone out of your hand.
Taxis:
Forget about them. Unless you're literally stranded in some far-flung corner of town after a night-out, Boris Bikes all gone and no night bus in sight, taxis are a waste of money.
Tourists and out-of-towners delight in flagging down a black cab outside a Strand theatre. You, on the other hand, know they are expensive and usually involve an awkward chat with a right-wing driver who you can't quite hear through the dodgy speakers.
Your mum says: Don't get in any unlicensed cabs.
The Tab says: Uber private cars give you your first ride free if you sign up.
Nightlife
At uni you've got two options: cheese or painfully edgy. By the end of third year, you're either bored or enjoying nights out very ironically. Luckily you've got a lot more options in your new home town.
Good places to go out are Camden, Shoreditch and Dalston. If you're a wannabe City-boy, at some point you'll head to Abacus. Those desperate to relive their student days should try Infernos in Clapham and Roxy, just off Oxford Street.
If you're after hugely overpriced tourist-traps, head to the West End. Tiger Tiger around Piccadilly seems popular with the perma-tan crowd. The Tab's never been in but it always has a queue outside.
Your mum says: Don't drink too much.
The Tab says: Sam Smith's pubs are like £2.20 a pint.
Green spaces
While the skyscrapers and Tube might excite the 12-year-old inside you, you'll miss your leafy campus sooner than you think. Meaningful green space can be hard to come by if you're in the wrong area. Don't underestimate how important a good park can be for keeping you sane in the concrete jungle.
Obviously you've got the big ones — Hyde Park, Regent's Park, Hampstead Heath. All good for a wintertime walk or a fat summer picnic reunion. But it's unlikely you'll be able to afford much around them though, so target the smaller ones. Use Find Properly's 'Distance to Park' feature to find somewhere close to green space. Clapham Common, London Fields and Clissold Park are all worth a scout around.
Your mum says: Pack some hayfever tablets.
The Tab says: Get sunbathing.
Crime
In a city of more than 8 million people, chances are you're going to get a few knobs who are out to spoil it for everyone. The London region is the most crime ridden area of the country experiences 102 crimes per 1,000 people, almost 27% higher than the next most dangerous place, West Yorkshire. Obviously there's a huge variation in crime rates across the city, but you probably can't afford the safest areas.
You shouldn't really let this wind you up too much. Just keep your doors locked and your eyes down if you pass anyone dodgy in the street. Avoid areas such as Tottenham and Clapton.
Find Properly lets you check out an area in terms of its crime rate. Then, if you're obsessed with safety, police.uk will tell you exactly what type of crime occurs in your new area.
Your mum says: Have you got your room insurance?
The Tab says: Just don't wave your iPhone around.
Live music
If you were 'into' music at uni, you probably went to a couple of open mics and a club night once a term that no one else had heard of. In London, you can do that sort of thing every night.
Obviously the place is packed full of struggling musicians doing their thing in bars and clubs. If you've got deep pockets, huge bands at the O2 are just a DLR ride away. And if classical's your thing, you'll love Prom season (don't laugh).
Your mum says: The Rolling Stones are in Hyde Park next weekend. Is £300 a ticket too much?
The Tab says: Find a good local pub with live music. It's as cheap a night out as you're likely to get.
Sport
London's great for sports fans, not so great for sportspeople.
Wembley, Wimbledon, Twickenham, Lord's — it's all here. In May, Twickenham Rugby 7s is a must. It's basically a piss-up masquerading as a rugby tournament and the crowd will seem populated almost exclusively with your old uni mates.
If you're after a pub showing all live football matches on copious big screens, try the White Hart in Whitechapel. It's close to the Tube station and full of fans of all persuasions.
Playing sport, however, is trickier. If you're into sports that require a field, be prepared to travel. Hackney Marshes host Europe's biggest playing field (or something like that), but it's almost impossible to get to. Regent's Park costs about £100 an hour to hire a pitch and for everywhere else, you're looking at a train ride out to Zone Eight.
Most parks have tennis courts, but generally you'll have to book well in advance. Same with five-a-side pitches. Prime after work slots don't come cheap at any of these places.
If you jog, run along the Thames Path for a good-looking route away from traffic.
Your mum says: How about the local leisure centre?
The Tab says: Get a job with a free gym.
Eating out
Not something you need to worry about too much. Chances are the restaurants round your office will be a lot smarter and cleaner than the curry house under your flat. If daddy's in London on business, get him to take you somewhere smart. Don't gamble on anything 'rustic'.
Don't get caught out by curry places on Brick Lane. You can find better off the beaten track.
You mum says: Treat yourself, go to Côte.
The Tab says: Tayyab's is the best curry place in London.
Find Properly is a clever property-search engine for London rentals.
Find Properly can reduce the time you spend travelling by finding properties within a short commute to the places you visit each week, such as your work or university. Find Properly can then filter areas by features that are important to you (such as crime statistics or distance to parks).
Find Properly facilitates finding properties with a group of friends: you and your friends store favourite properties on a single shared list. You can then comment on and rate each other's choices. And when you've decided on a shortlist, viewings are arranged with just one click.