Your society could win £10,000 of funding by entering Spotify's Sound Clash competition
Think of all the stash you could buy
Spotify are back with their annual Sound Clash competition, and this year they're giving away the biggest prize yet.
It's the chance for clubs and societies from every uni across the UK to compete in the only thing that really matters – making a banging Spotify playlist.
The society that creates the Spotify playlist with the most followers will win a massive £10,000 of funding for them to spend however they want, as long as it's society related. That means brand new sport kits, team trips away and subsidies galore.
You can add whatever songs you want, basing it on a genre, era or simply pick your favourite tunes to get people in the mood.
---
---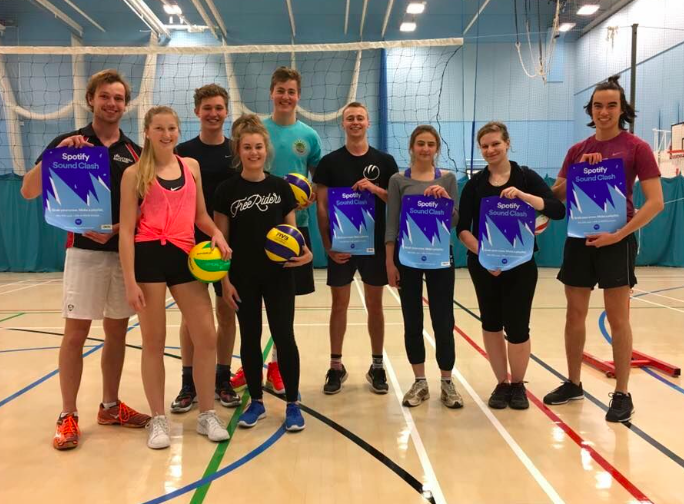 The playlist has to be at least 30 tracks long to qualify and it must be hosted on a personal or society Spotify profile, not a university one.
Other than that all you have to do is make a great playlist, so choose your songs well and share the hell out of it!
Tom, part of last year's winning team the Warwick Rowing Club, said:
"We chose to make a jokey playlist, so we had stuff like the Pokemon theme song and Shania Twain. We thought we'd do something a little different and fun rather than the classic work out playlist, which is why people liked it.
"I'd definitely recommend entering because you can win a lot of money for your society which makes your life and the life of your members a lot easier. It's also a really fun experience and you get to meet lots of new people.
"The best part of the competition was definitely having our terrible taste in music justified."
---
---
We spoke to a few of the teams competing in this year's Sound Clash to scout out the competition.
Atticus, President of Edinburgh RAG said:
"Our playlist is made to be feel good. I dare anyone to listen to it and not be in a good mood afterwards. It's filled with the likes of 'Come on Eileen' and lots of Bruce Springsteen.
"If we win, we'll split the £10,000 across the four different charities we're associated with. Voting only takes 20 seconds out of your time and you could be donating £10,00 to charity – it's the easiest charity work you've ever done. It's also a cracking playlist."
---
---
Holly, President of the Bristol Jets Cheer Squad, said:
"Our playlist is made up of the songs in our routines and the songs we sing when we're getting ready for competitions, with bangers like 'No Scrubs' and 'Hollaback Girl'.
"We're actually a really big club made up of 150 members and we're all inclusive, so we never turn anyone away. We're going to use the money to subsidise the cost of kits and competitions, as lower costs means it's more accessible for everyone."
If you think you've got what it takes to make the best playlist and want to win £10,000 for your society, it's time to get involved.
Sound Clash closes on 22nd March so enter now!
---
---